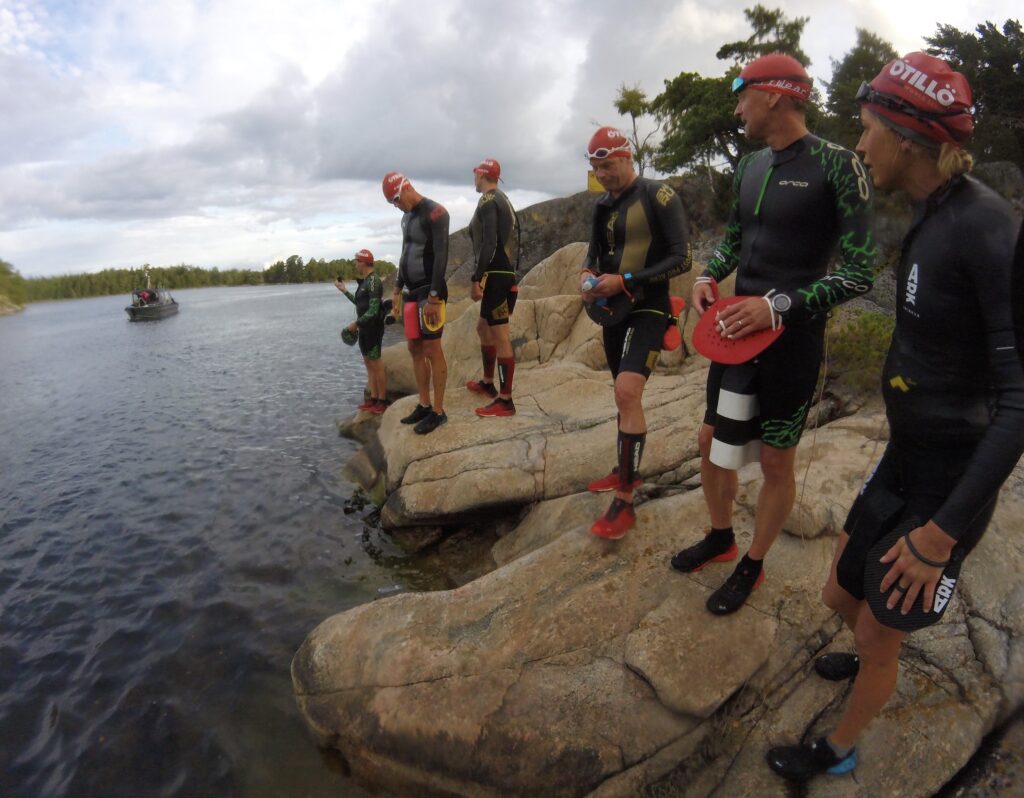 KRAKEN EPIC ADVENTURE
"Have you heard what they are up to next weekend? They plan to swim and run from Arholma to Landsort. It must be at least 200km."
I first heard about the adventure a week before takeoff. Annika mentioned it while we were out training. My first thought was "Wow, how crazy. They will get so cold. I'm glad we're not doing something like this." As we continued our swimrun session we didn't speak much more about it, but none of us could really drop the thought. By the end of the training we were both like; "Maybe we should join?!"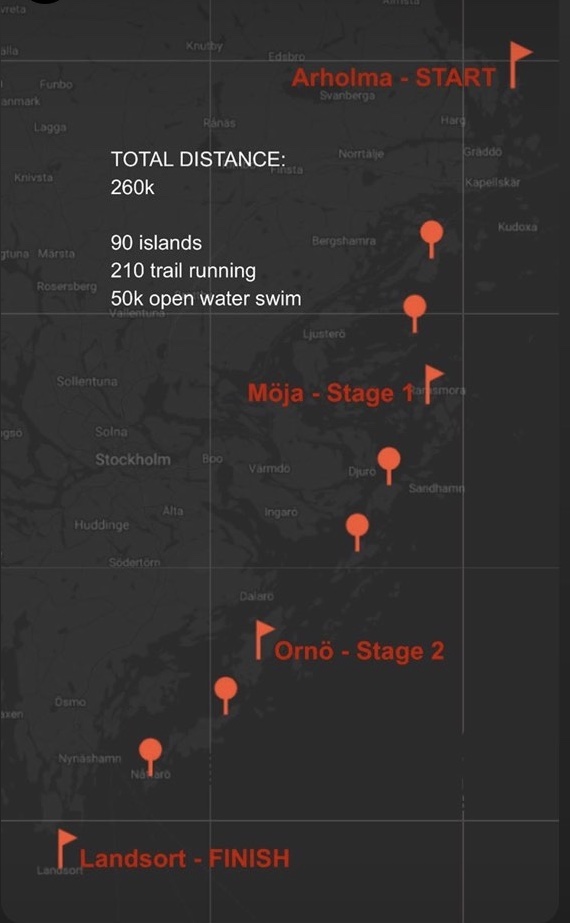 Since ÖtillÖ World Championship sadly had been cancelled, our calendar was blank for the weekend. And with loads of training in the bucket it would feel good to get use of it somehow.
It was not much time to prepare though and as the days came closer we realized what a huge challenge we had in front of us. Looking closer into the maps we understood that the real distances were closer to 50km swimming and 210km running.
250 km throughout Stockholm Archipelago is not a walk in the park and we were not too cocky reaching Arholma Island after hours of travelling on land and sea on Thursday evening.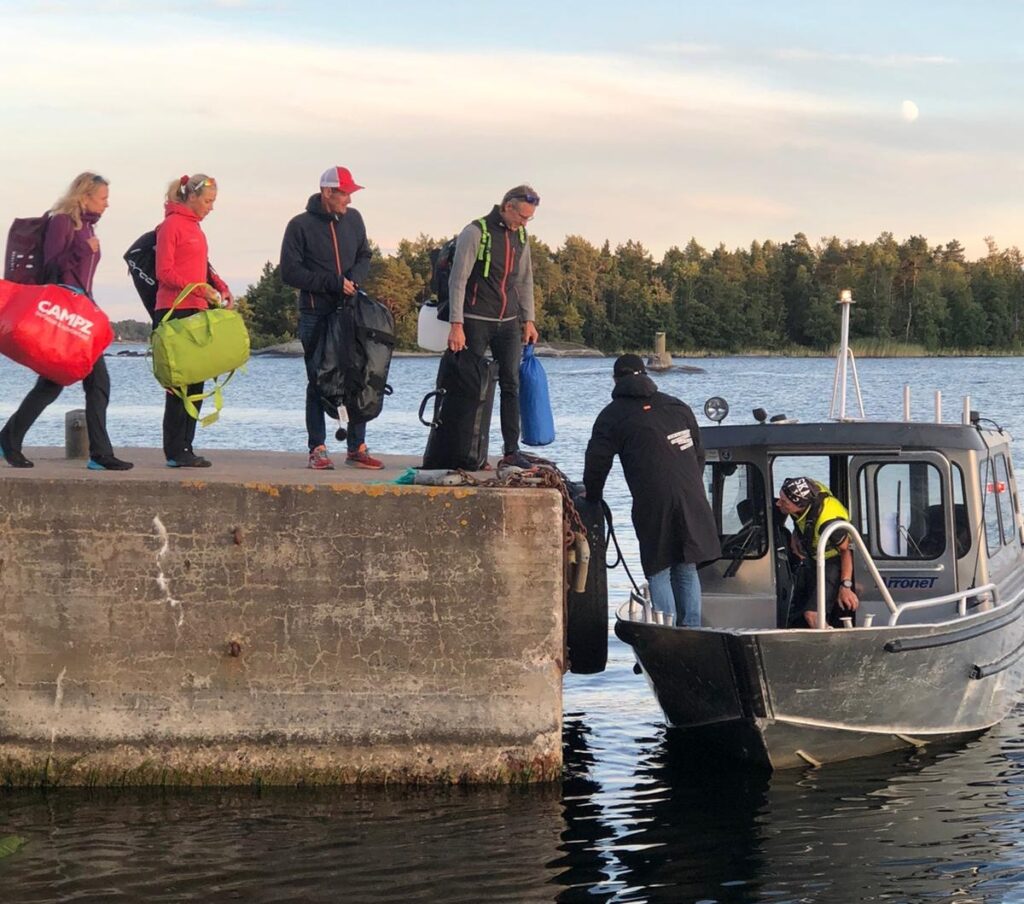 I didn't know what to actually expect from the weekend. We're all experienced racers, but this was different. In a race you have a finish line to focus on, you have a race organization, a safety team and even a plotted course to follow. 
We were unsure how the navigation would turn out. Even though Pontus and George had put in massive effort planning the course the last nights, our google-maps-print-screens did not show all details. Another uncertainty was if the group would be able to stick to the pace. We could not go too fast in the beginning but not too slow either as we needed to cover a distance of at about 80km each day to reach Landsort before dusk on Sunday.
Anyway, focus now was to control what we could control and as the schedule was tight we all agreed that we should not waste any minutes of daylight during the coming three days. Alarms were set on 3.10 the coming morning and we made ourselves ready to start moving into the unknown.
Day 1:
Arholma-Möja, 12 hrs, 80 km (16 000 m swim / 64 km run), 32 islands
Longest swim: 1 500 m (Ålandet-Gåsö). Longest run: 10,5 km (Yxlan)
As we set off from Arholma before the sunrise the nervousness was gone and it all felt right. Everyone was motivated for the adventure, ready to suffer but mainly to have a fun journey together.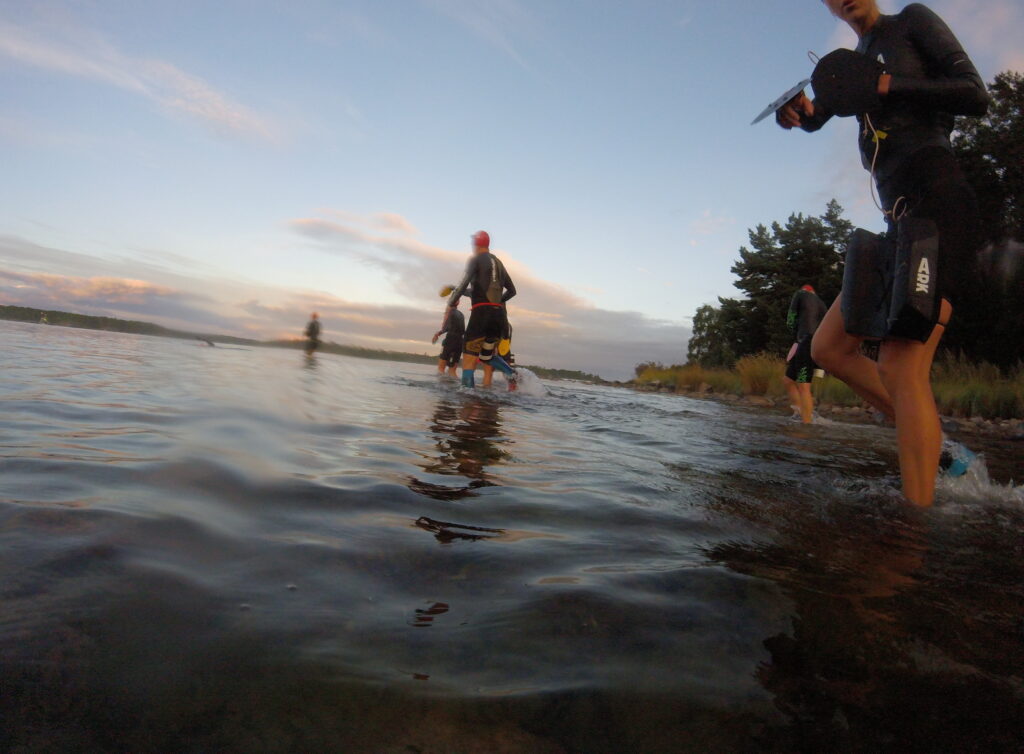 The first hours simply flew away and it didn't take long before we arrived to Blidö where we got spoiled with real food for lunch. Pasta and Pesto on a plate is luxury in this context.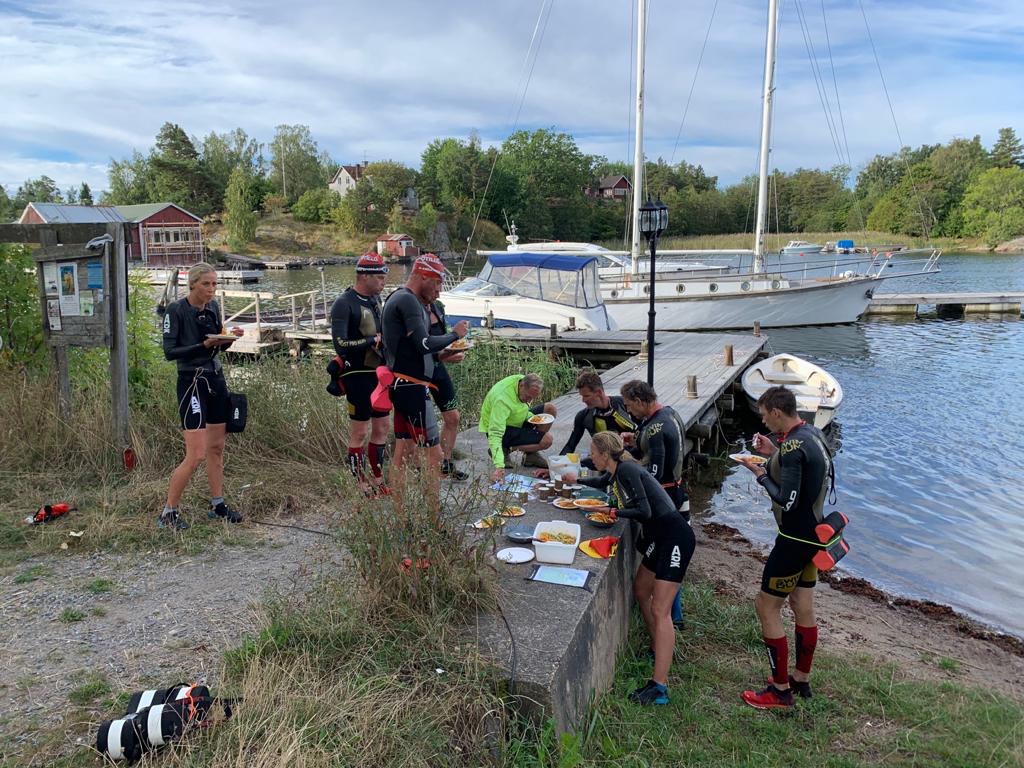 Before we went off on this adventure Annika and I had talked a lot about how to motivate ourselves. We thought it might be hard for us to complete every section of the course as we had less than a week to prepare. Our concern was if we would miss a section the first day, it could be harder to motivate ourselves to get through the course the coming days.
Two days before the start Annika came up with the excellent idea that we as a team should complete the course. Our goal then became that at least one of us must be at the course at all time. It turned out very well. We did many sections together but Annika took care of the longest swims while I cared for the longest runs. In this way we were taking advantage of our strongest skills and were also able to push ourselves for the team. It helped us to stay focused all the way.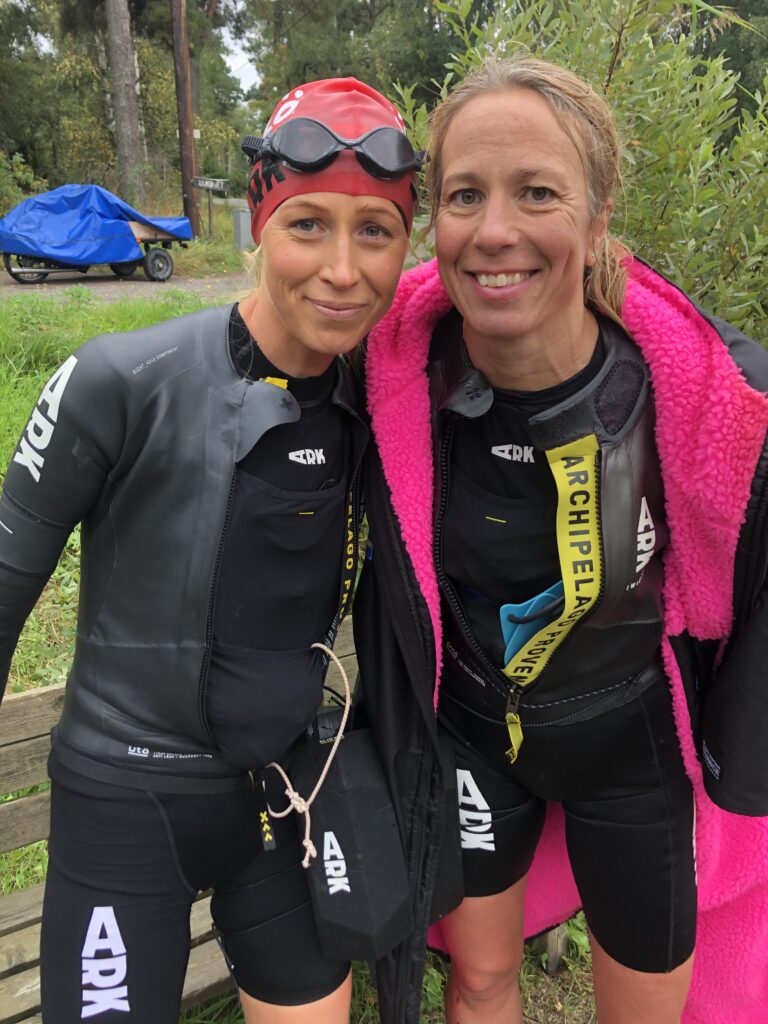 Not sure if it was the pasta lunch or our fresh legs but the first day went faster than estimated and we managed to arrive to Möja already after 12 hours. Getting there before sunset, having a (cold) shower and dinner at the restaurant before preparing the next day was a great start of the adventure.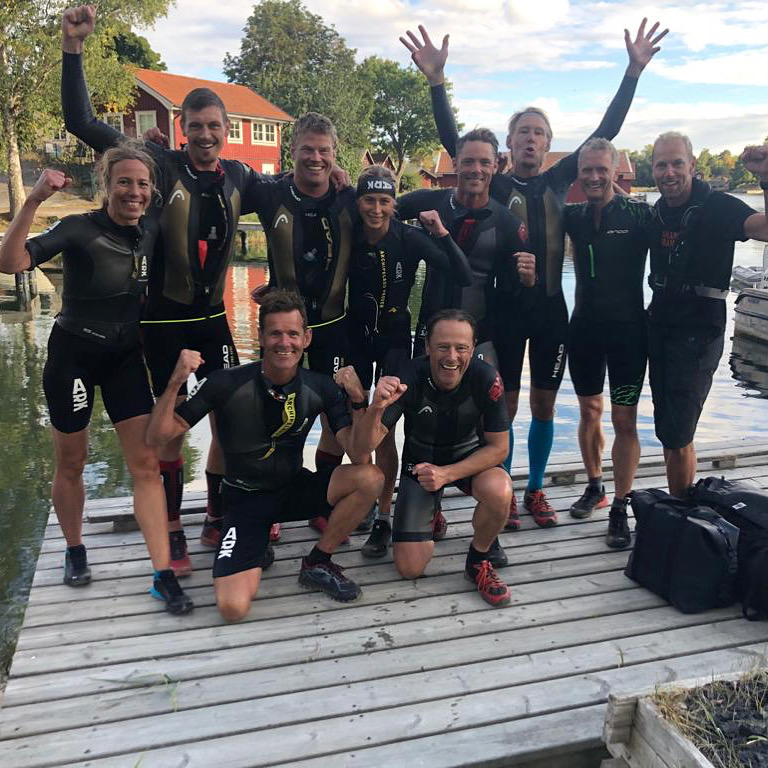 Day 2:
Möja-Ornö, 15 hrs, 86 km (8 700 m swim/77,3 km run), 22 islands.
Longest swim 1 400 m ("Pig swim") and longest run 18,5 km (Ornö)
Next morning started as the previous day; porridge breakfast 3.40, filling bottles, loading our bags on the boat and get going. We started the day with an 800m swim before the sun went up. It didn't matter that it's cold and dark, moments like these are just A M A Z I N G! It sounds cheesy, but, the early hours of the day were magic and I'm forever grateful I got to experience these moments.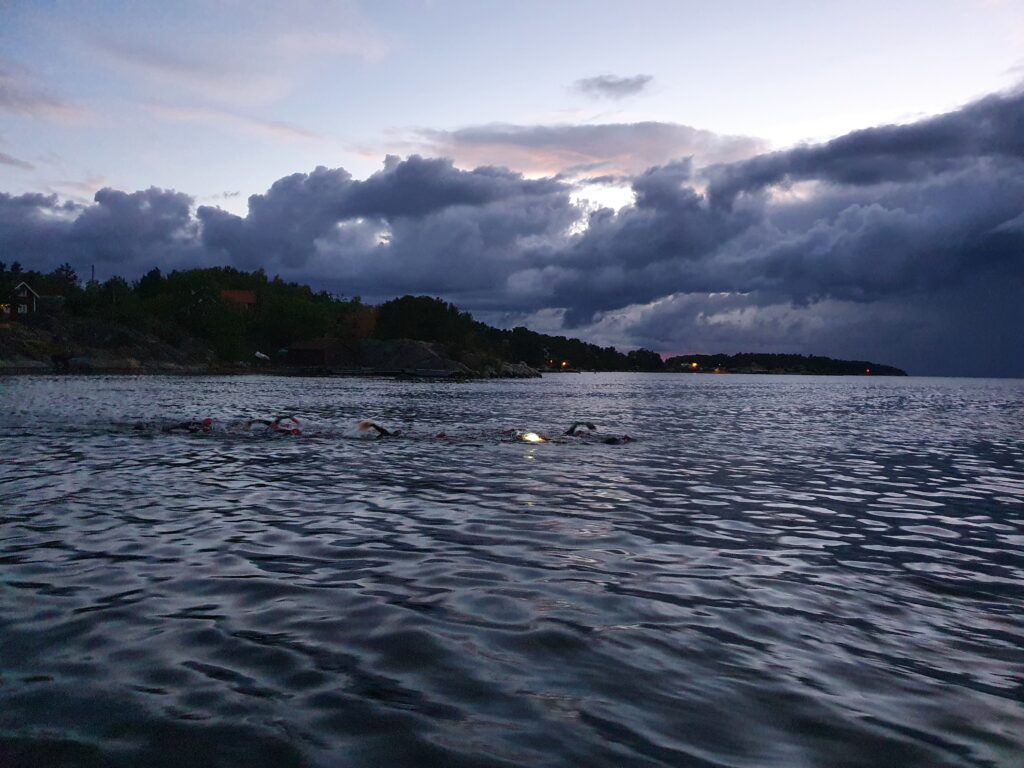 The coming islands after Möja were challenging with tricky terrain and navigation. As we could not move as fast as we wanted on land, we decided to jump into the water and swim a bit more than planned.
I think this is the true essence of swimrun. Alternating the discipline based on the terrain. As we carry all gear we use it's a freedom to quickly switch between running and swimming
After a long morning with difficult orienteering it was quite a relief to enter the ÖtillÖ course and skip the map for a while. The course is very familiar environment for all of us and a nostalgic place where we have gone through hard moments with race bibs on.
Heavy rain and wind characterized the rest of the day. We all had to dig deeper and it's when the conditions get tougher you realize how important everyone in the group is and our spirit was still high.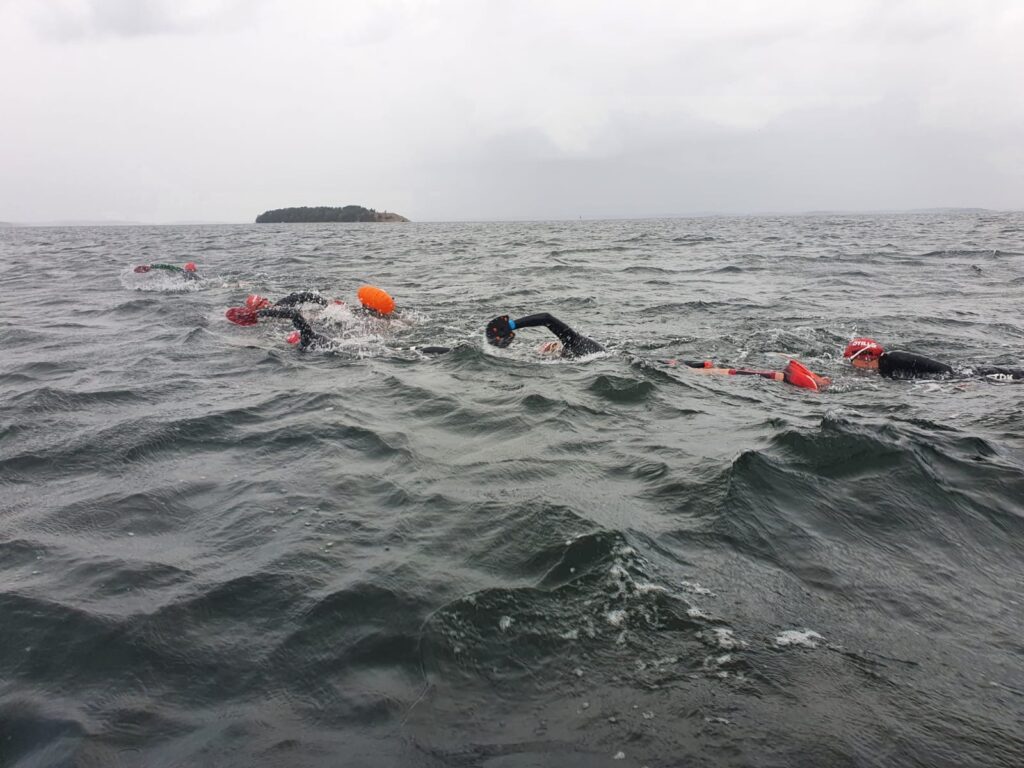 We finished the day with almost 20km of running on Ornö. We had no maps of this section since we've done it several times before. Suddenly we didn't recognize the terrain and realized that we probably must have missed a turn. As it was getting dark we decided to ask for directions at a nearby house.
We knocked on the door and a woman looked out. Behind her some small kids pop up, curiously looking at the soaking wet strangers, dressed in wetsuits, who was trying to explain why they were lost out here late at night. But before we had finished our excuse she interruped us. "Hey, We know who you are. We are following you on Instagram!"
The friendly family then pointed us in the right direction and we could continue to our night camp.
Saturday was a big day covering 87km and it took us about 15 hours. By the time we finally reached our night stop at Ornö Båtvarv. It felt great to get a quick "archipelago shower" and pizza delivered from Utö.
Day 3
Ornö-Landsort, 15 hrs, 76 km (13 700 m swim/ 62,3 km run), 25 islands
Longest swim 6 130 (Danziger Gatt) and longest run 13,8 km (Utö).
The night went by way too fast and after a few hours of sleep it was time to get going again. We got into routines quite well by the third day; Preparing porridge, filling bottles with hot water, getting our stuff together, putting on our wet wetsuits and start moving.
The section between Ornö and Utö was just as magical as it is during the ÖtillÖ race. 15km of island hopping's and choppy swims.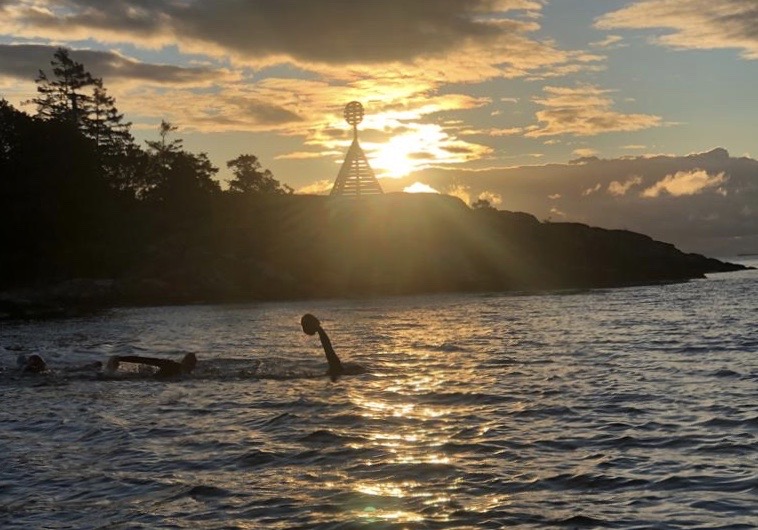 Reaching Utö is always a special feeling as it's the final island of the ÖtillÖ course. Also a day like this, when you know you will continue another 65km, it was uplifting to enter Utö.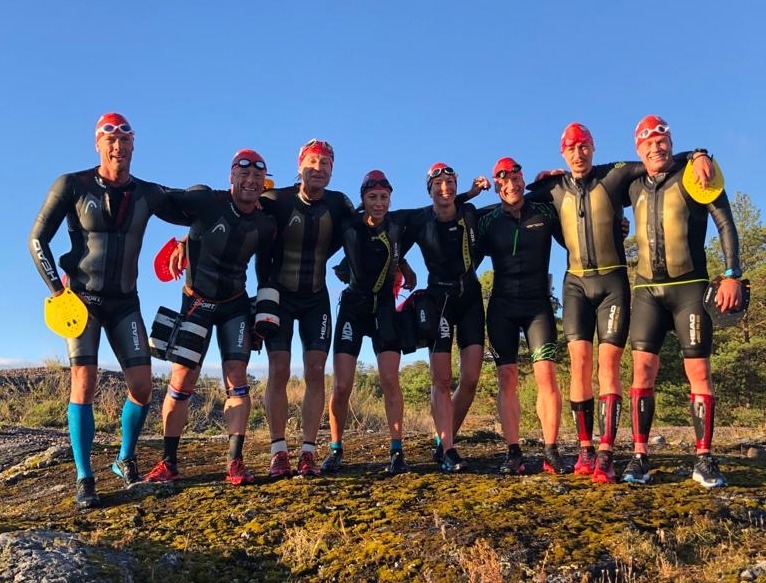 The coming 14km gravel road on Utö had less action and this was probably my sleepiest section. However, the energy table that our excellent support boat was serving at Vålö solved all energy dips.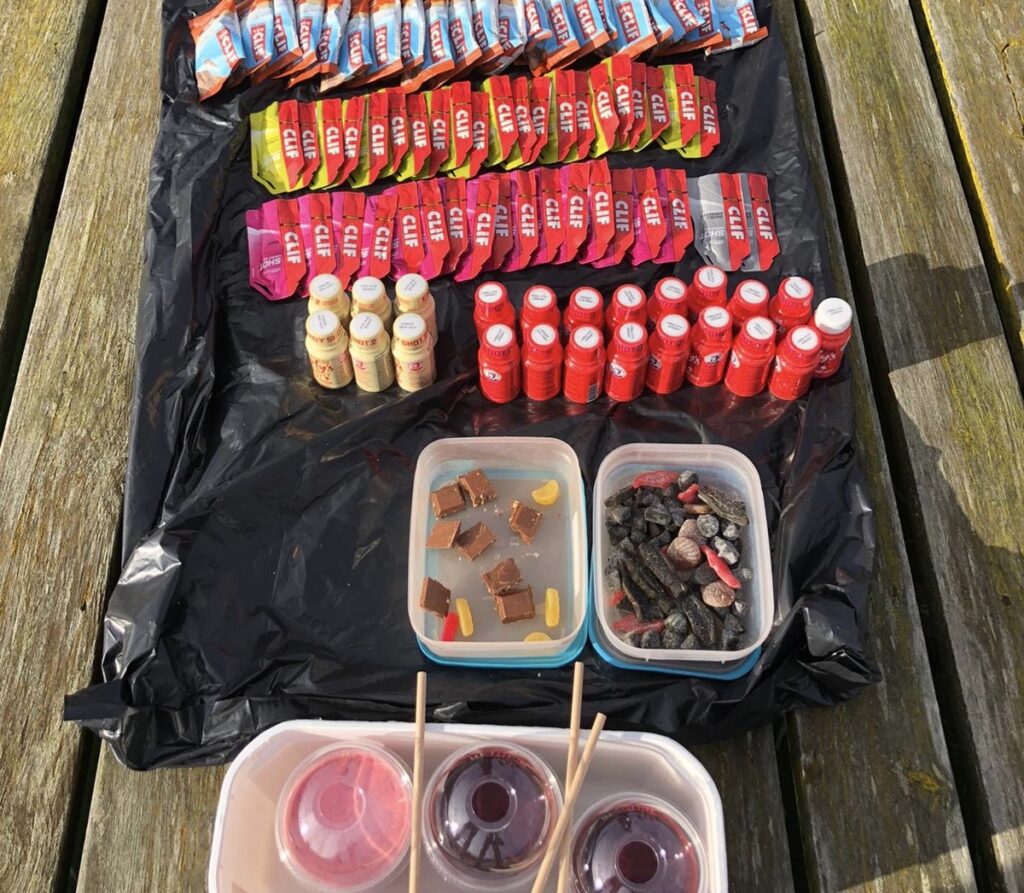 The big challenge of the day was Danziger Gatt, the huge waterway between Nåttarö-Nynäshamn. It's heavy trafficked by oil vessels and big ferries and could be dangerous to cross in bad conditions. Today everything was on our side; Calm water, sun's out and the big ferry to Gotland just passed before the group got into the water.
I followed the 6km swim crossing over Danziger Gatt from the boat as my and Annikas goal to complete the course together was still alive. Annika is the strongest swimmer I know but I was worried that she would suffer from the cold on this section.
For me, the cold was definitely the toughest challenge on our adventure. I struggled getting warm even after short swims and at this point when we had spent almost 40 hours in our wetsuits and it got harder and harder to keep the body temperature up. In the boat I was loading with hot water and ready to jump in and replace Annika at any time if she would get too cold.
The conditions were amazing and all the strong swimmers made a tremendous job over Danziger Gatt. It was not until it was about 800m left to Nynäshamn they got up on a small cliff to recharge.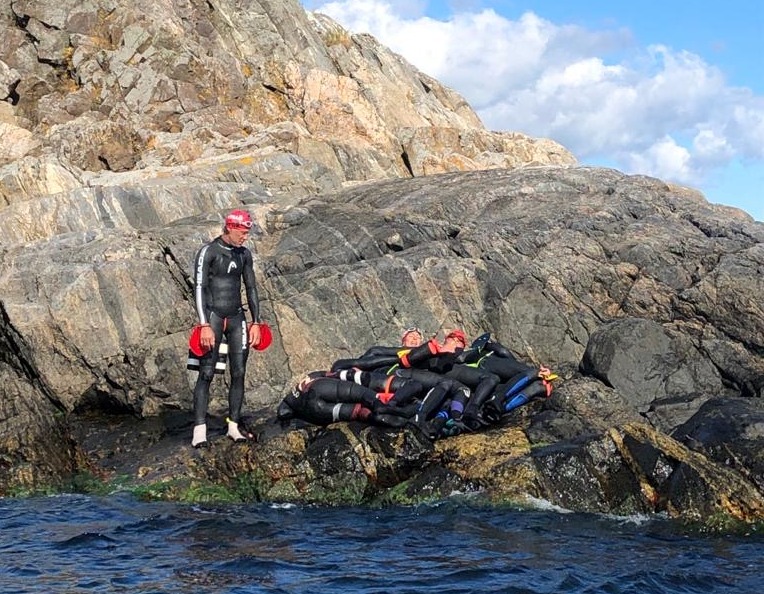 This was mine and Annikas opportunity to switch swimmer and for the first time our goal actually felt within reach. From here we had only about 30km left to Landsort and we could even sight the light house in the horizon.
Joakim navigated as a king and it was a beautiful section alternating shorter swims and runs.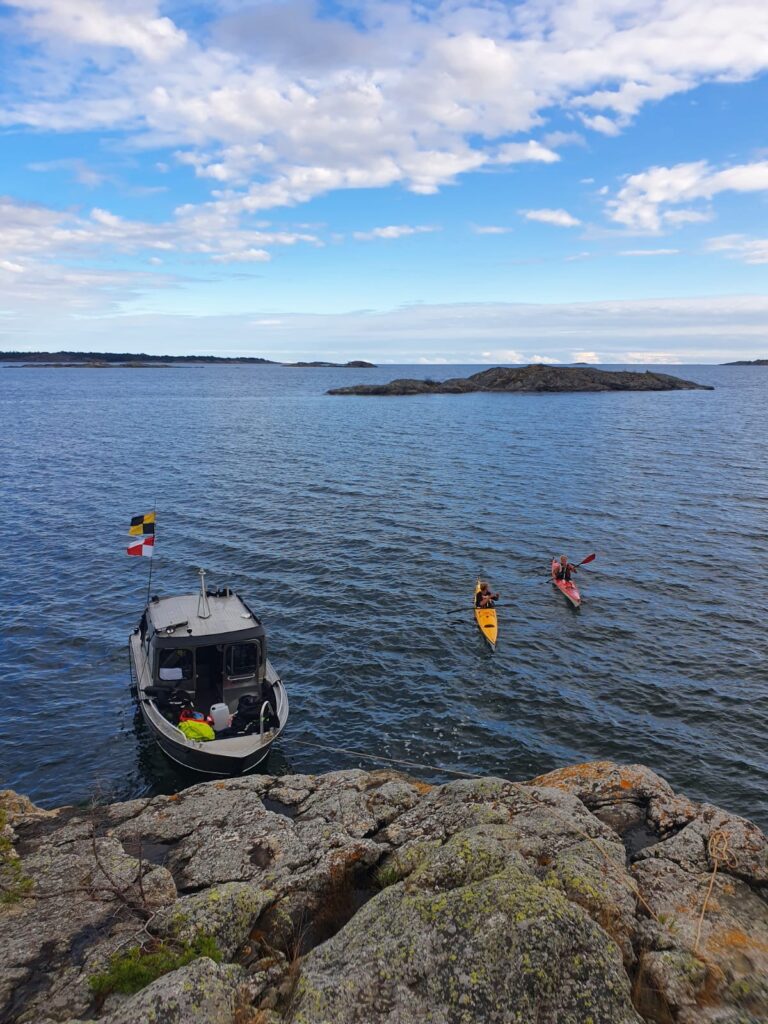 Just as the sun started to drop down we crossed the last islands to our finish line. A finish line that we had constructed and only existed in our heads but maybe one of the best lines I ever crossed. I will never forget the feeling when the whole group entered Landsort.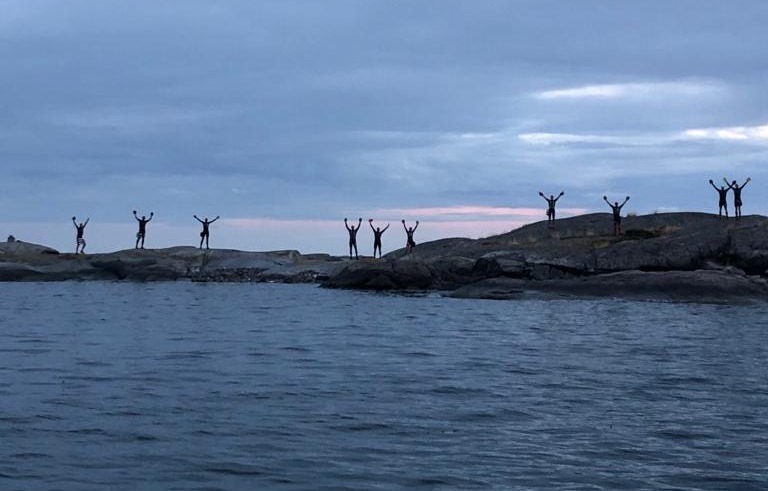 We did this adventure to spice up our everyday life, to challenge ourselves and have fun together. When our legs and bodies got tired it was the positive attitude in the group that kept us going. Everyone was taking turns in being strong, always helping and cheering each other.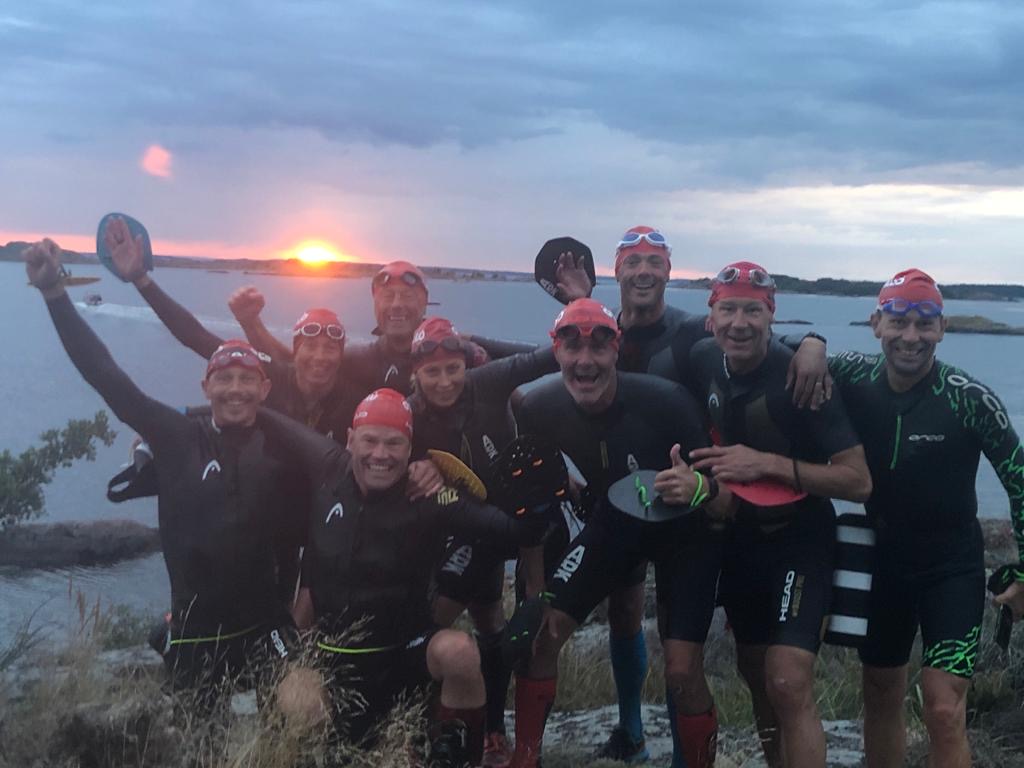 Thanks everyone involved for making this possible!
Arholma – Landsort:
Tot distance: 242 km; 48,4km swim and 203km run. 79 islands, 42 hrs.
All pictures from @krakenswimrun