Our third consecutive win at ÖtillÖ World Championship. It's an unbelievable feeling.
Below an extract from ÖtillÖ press release, followed by my race report in Swedish.
The top teams pushed the pace to incredible speeds at the 13th edition of the ÖTILLÖ Swimrun World Championship, one of the toughest one day races in the world. Conditions were ideal for a quick pace on the 75 km long race course in the Stockholm archipelago but no one had expected the course records in each category men, mixed and women to be crushed with such incredible times.
The undefeated duo Annika Ericsson and Kristin Larsson (SWE) had a fierce battle against second placed women's team Fanny Danckwardt and Desirée Andersson (SWE), who led a big part of the course but finally finished 3,49 minutes after the leaders who beat their own record from 2016 with not less than 36 minutes. "Today's conditions were just perfect, warm water and no wind. We have been able to race properly without being stiff and cold as previous years. We also met really tough competition this year so we had to keep on pushing", said Kristin Larsson at the finish at Utö after the team's third world championship gold in swimrun and record fast time in the women's category.
https://otilloswimrun.com/smashed-course-records-at-otillo-swimrun-world-championship-2018/
---
Det blev hat trick för mig och Annika. Tredje raka segern i ÖtillÖ World Championship. Känns nästan overkligt att vi lyckats återupprepa segrarna när det är så lång tid emellan som ett helt år. Det är ju så mycket som skall klaffa för oss bägge två just den dagen; toppad form, frisk, skadefri, fungerande utrustning och en taktik som håller hela vägen. Den sistnämnda vågade vi oss på att förändra det här året.
Jag har många gånger tävlat nästan rakt av och förlitat mig på mitt pannben. Min vilja och envishet har tagit mig väldigt långt men det är också en egenskap som kan ställa till det. Första gången jag ställde upp i ÖtillÖ 2015 körde jag totalt respektlöst från start. En rejäl käftsmäll 8 timmar in loppet resulterade i att jag vinglade imål med en kroppstemperatur på 34 grader.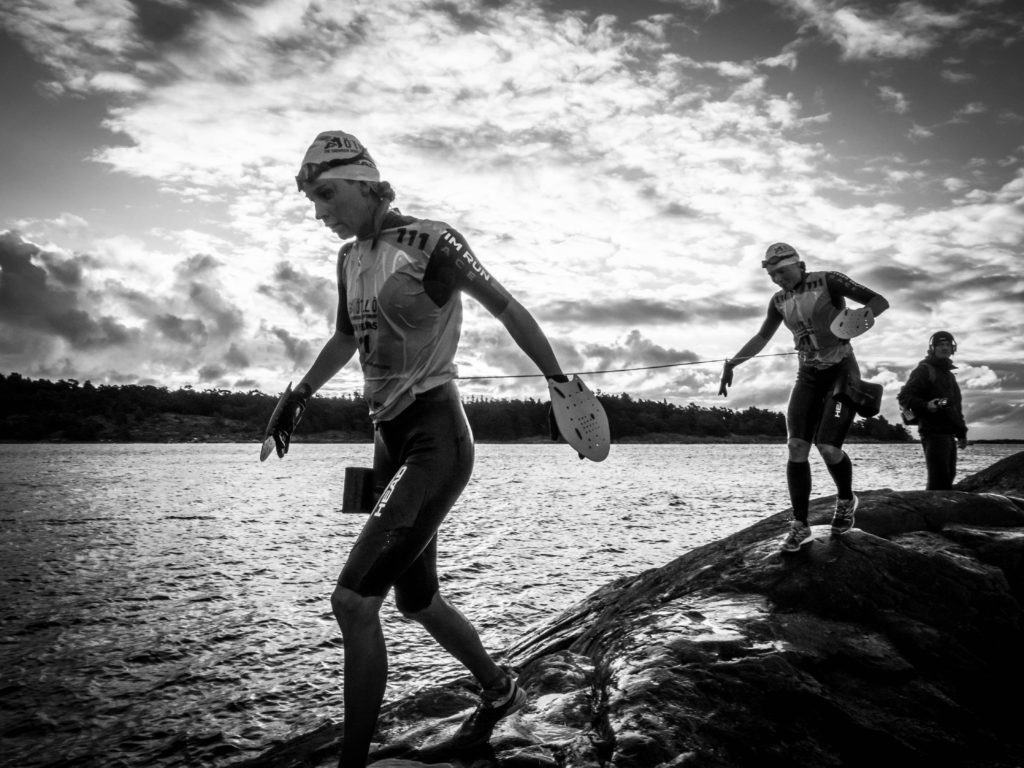 Foto:Linus Ahlberg
Året därpå, 2016, var jag bättre förberedd både med simning och med en egen energiplan. Vi satte ny rekordtid på 9 timmar 36 minuter. Det var mitt och Annikas första ÖtillÖ tillsammans och vi körde bra men kände bägge två att den här tiden kan vi nog förbättra.
Foto:Linus Ahlberg
2017 körde vi med helt nya dräkter, prototyperna som sedan blev ARK Ornö –dräkten, med premiumneopren på överkroppen och löparvänlig underdel. Fortfarande körde vi på hårt från start och när vi nådde Ornö hade vi redan en ledning med 30 minuter. Vädret var också ovanligt tufft så med den hårda starten blev avslutningen trött och vi lyckades inte slå fjolårets tid.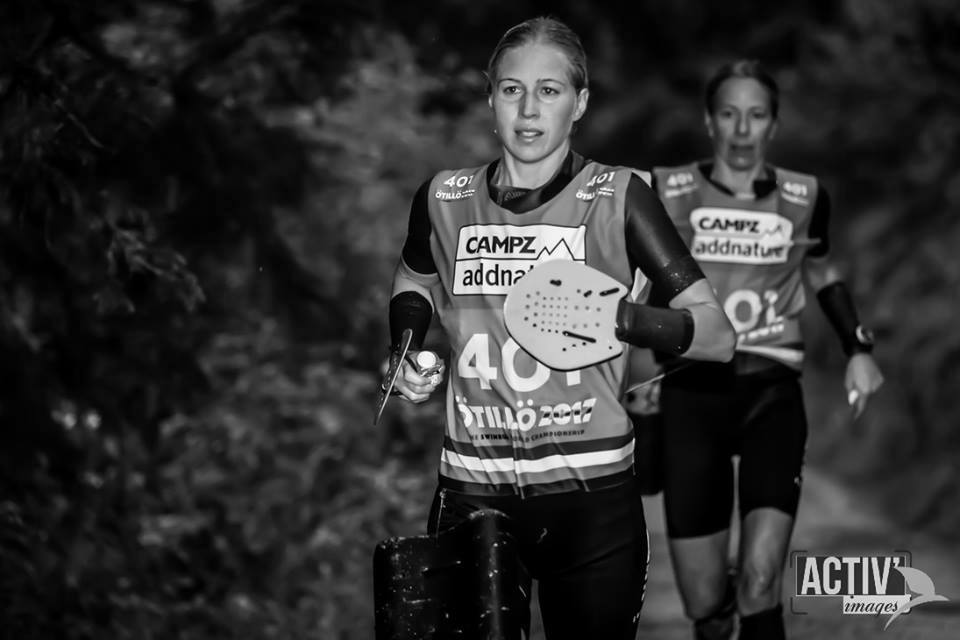 Inför 2018 visste vi att återupprepa segern en tredje gång är inget vi gör på gamla meriter. Varje lopp är ett nytt lopp. Däremot kan vi dra nytta av våra tidigare erfarenheter.
ÖtillÖ är 75km totalt, 10 km simning och 65km löpning över 26 öar mellan Sandhamn och Utö. Veckorna innan loppet simmar och springer jag och Annika genom hela banan. Ett kul inslag i träningen och en mental förberedelse inför loppet. Det är också ett tillfälle att njuta av miljön i en avslappnad situation jämfört med tävlingsdagen då det är fokus på annat.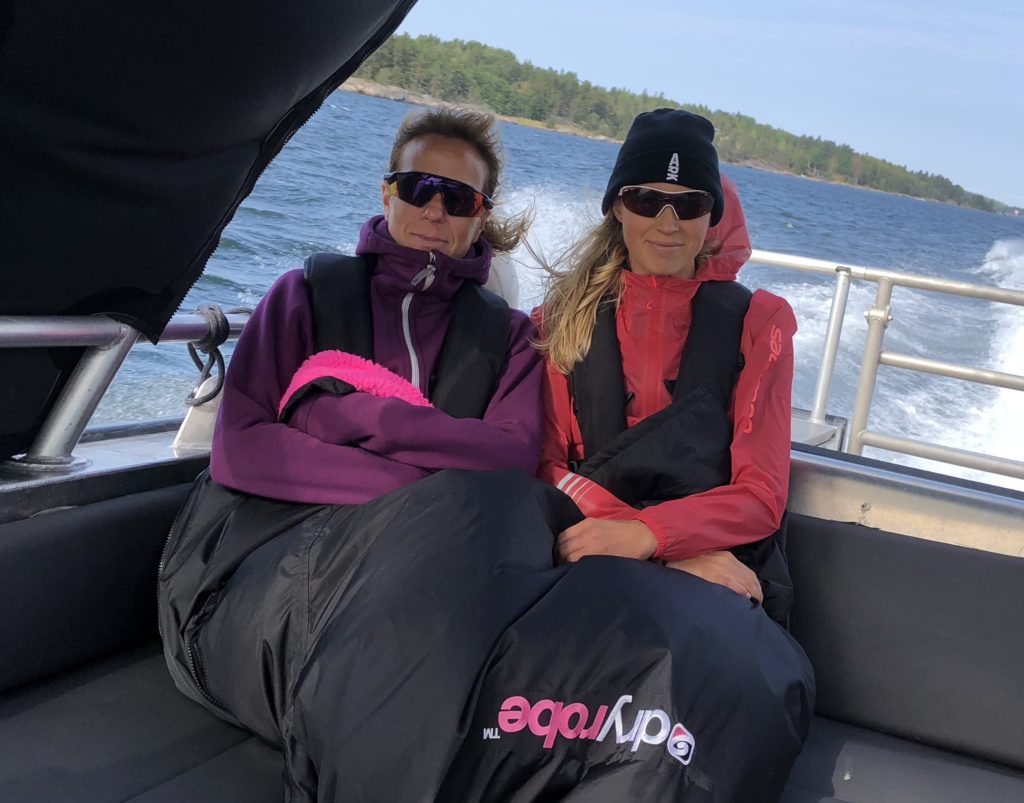 På tävlingsmorgonen står vi lugnt i startfållan 5 minuter innan startskottet går. Vi vet vad som väntar och ser fram emot det. Känner oss redo. Vår utrustning är strået vassare än tidigare år. Vi är inställda på en annan taktik och vi har ytterligare ett år av gemensam träning i bagaget. I stort sett varje torsdag det senaste året har vi mötts upp i skogarna mellan oss och tränat tillsammans. Snackat. Umgåtts. Att tävla tillsammans ger mer än att bara dela ett tävlingsmål. Det blir ett naturligt sätt att umgås med vänner, dela upplevelsen i naturen och motivera varandra till tuffa träningsperioder. Men inte minst, med en lagkamrat jag litar på vågar jag pressa mina gränser under tävling.
Startskottet går och startfältet rör sig snabbt framåt i gryningen. Solen är på väg upp när vi kastar oss i på den första simningen, 1700 meter. Havsytan är som en spegel och vattnet är varmt (16 grader) och vi kliver upp på andra sidan bara lätt nedkylda. Tidigare år har vädret varit mer krävande, kroppen skakat av nedkylning och balanserandet på klipporna efteråt varit mycket tuffare.
Under själva tävlingen säger vi inte så mycket till varandra. Korta peppande ord. Allt flyter på. Vi har starka tjejer runtom oss. Fanny och Desiree är i vattnet snabba som delfiner. De tar och håller ledning ett par timmar in i loppet. Vi ligger inte först men ändå känns det som att vi har full kontroll över loppet. Vi springer i lagom fart, fokuserar på vår egen taktik och jag ser fram emot kommande öar.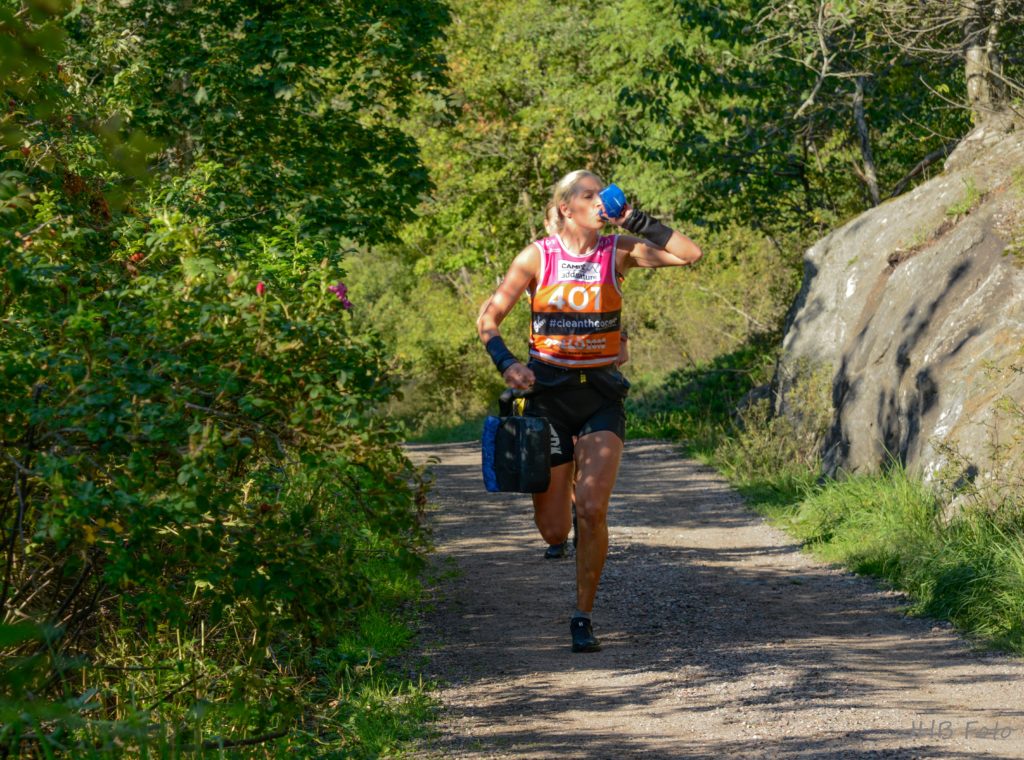 Foto: Jan-Henrik Bäck
Drygt halvvägs in i loppet kommer en tuff etapp, 1400 meter simning som är helt oskyddad för minsta vind. Den beryktade grissimningen som har en förmåga att suga ut all energi ur kroppen. Men för första gången möts vi i år av helt stilla vatten. Finns inte ett spår av någon "grissimning". Det enda som bryter vattenspegeln är vågrörelsen från dem som redan är i vattnet. Vanligtvis brukar jag börja räkna armtag här när det blir för kallt för att ha något annat att fokusera på. Förra året kom jag upp till 600, i år hann jag inte ens börja räkna. När vi kliver upp lyder benen direkt, till och med käkarna fungerar och för första gången under mina 4 år lyckas jag tugga i mig hela twix-chokladen som alltid delas ut efter grissimningen.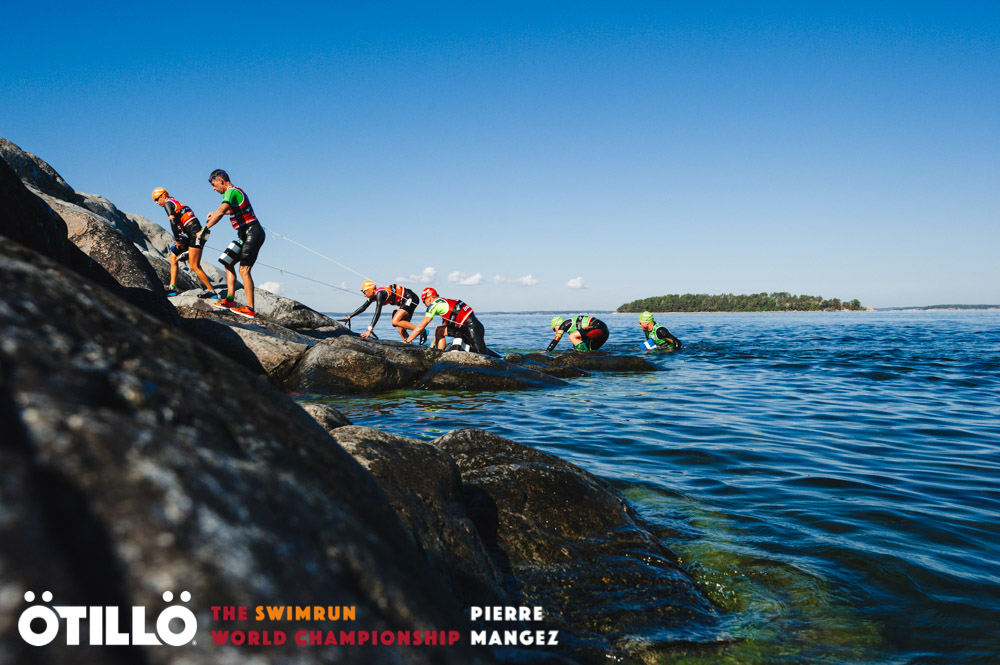 När benen är pigga är sträckan mellan Mörtö Kobb och Mörtö Bunsö riktigt kul. Terrängen är fin men krävande. Innan nästa simning (1000 meter) kommer vi ikapp Fanny och Desiree som hade dragit ifrån oss tidigare. Vi håller ihop över till Kymmendö och springer tillsammans mot Ornö. Alla fyra känns väldigt starka. Ingen stressar utan har fullt fokus. Allt känns så kontrollerat och det ger mig mycket självförtroende. Vi simmar över och kliver upp på Ornö tätt ihop. Ornö är 20 kilometers löpning efter 7 timmars tävlande och det gäller att hålla uppe farten. Första åren var det här som min kropp vek ner sig och pannbenet tog över för att komma imål. I år samarbetar kropp och knopp. Annika och jag gör en fartökning och får en lucka. Vi drygar ut den sakta men säkert och vid Ornö kyrka har vi två minuters ledning.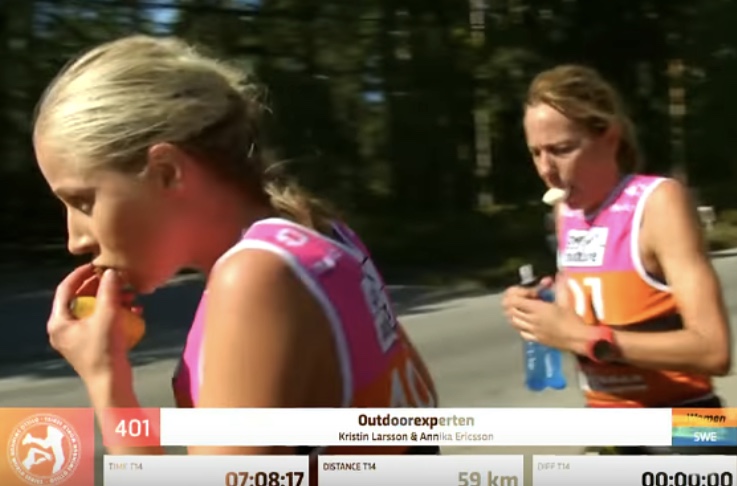 Energistationen vid kyrkan är välkommen. Vi fyller på och jag riktigt känner hur energin går ut i kroppen. Simcoachen Ulf Hausmann är ute på cykel och hejar på och ger oss positiva baktider. Förra året var det här vi fick rapport att närmast jagande lag hade brutit och att vi hade en ledning med 30 minuter. Det gjorde att vi tillät oss känna efter hur vi egentligen mådde. Resultatet blev att vi tappade trycket helt och körde de sista 15 kilometrarna 20 minuter långsammare än 2016. Men nu är det helt annorlunda och vi kan öka farten den sista milen på Ornö. Marginalen bakåt växer men vi tar inte ut något i förskott utan fortsätter fokusera på oss och vad vi ska göra.
Avslutande öar innan sista ön, Utö, är små och simningarna är korta men plötsligt får jag kramp i en vad när hoppar i på sista simningen. Sträcker benet rakt upp i luften i ett försök att få loss krampen. Den släpper inte.
Vi kliver upp på Utö då Annika säger att vi har varit ute i 8.36. 8.36..! och det är drygt 20 min kvar till mål..! Jag glömmer allt vad kramp heter och vi springer på för allt vad vi har. Känslan är magisk inför vad som håller på att ske och benen är med oss. Vi är på väg mot Sub 9 timmar och en rejäl kross av vårt tidigare banrekord. För några veckor sedan när vi var ute och tränade körde vi hela vägen upp till målet, och det är jag tacksam över nu. Vi vet exakt hur långt det är och att vi måste ge allt nu. En knapp kilometer kvar möter Daniel upp. Kommer inte ihåg vad han säger men jag ser honom och det ger energi.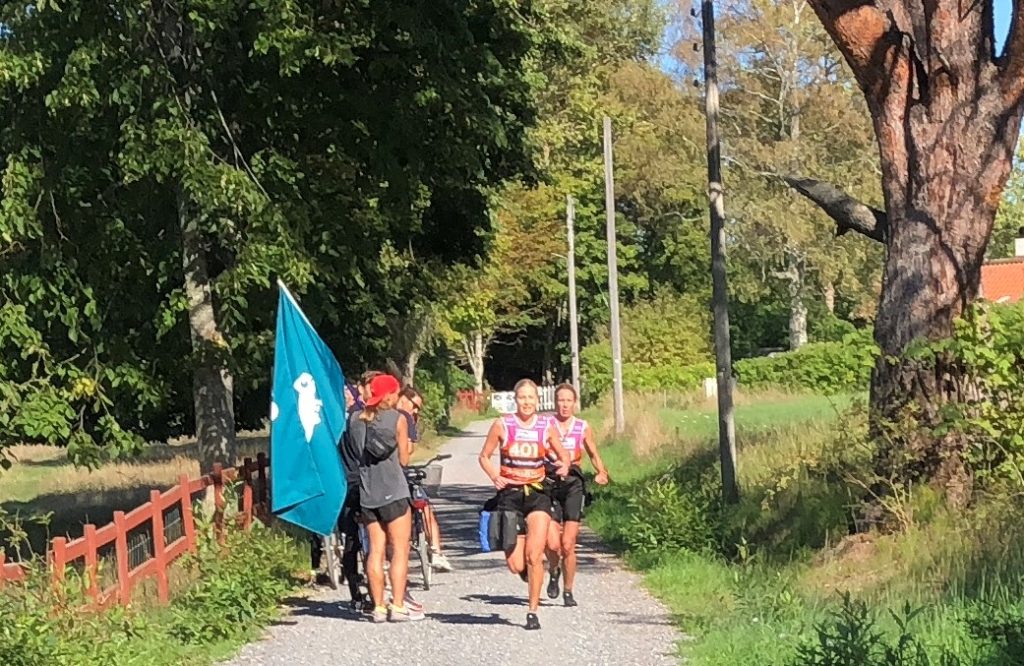 Foto: Daniel Hansson
Vi svänger upp för sista backen och ser målportalen med tävlingsklockan som visar 8 timmar och 56 minuter. Vi är första damlaget i historien som spränger 9 timmars gränsen och jag är så glad över mitt och Annikas hela genomförande. Vi har förberett oss noga, samarbetat bra och haft kul på vägen.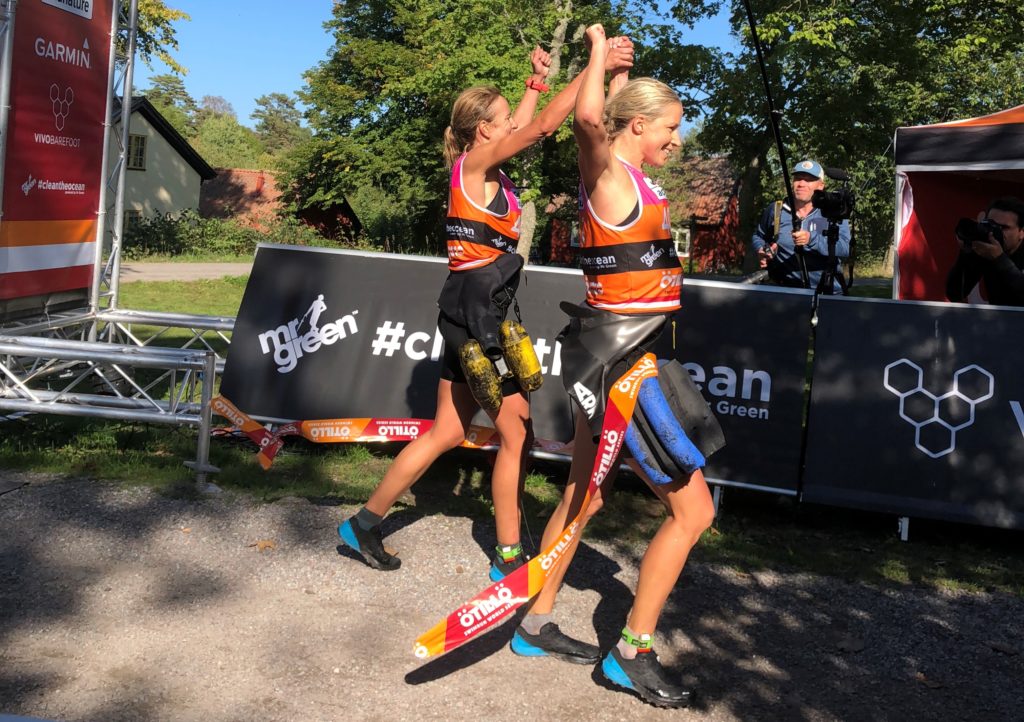 Tack Outdoorexperten som gör mitt tävlande möjligt.
Tack AccessRehab som tagit hand om min kropp de senaste 7 åren.
Tack till ARK Swimrun för att jag får vara med och utveckla de produkter jag tror på.
Tack till Salomon, Thule och SignSupply Sport som gör att jag alltid kan träna och tävla med den bästa utrustningen.